Campground Description
Camp Lake features two beaches, a boat launch, boat trailer parking, picnic shelters/cookhouses and a sewer dump station for your convenience. Take in some swimming, boating, water skiing, sailing, canoeing, kayaking, hiking or have a game of horseshoes. There is a playground, basketball hoop volleyball court, tether ball and beach volleyball are also available for your enjoyment. The concession/office is located at the entrance to the campground where you will find flush toilets/showers, firewood, ice cream, and other concession items for sale.
Local Attractions
Take a trip back in time at the Viking Museum. Or try a round of golf at the Viking Golf & Country. Kinsella Market on Sundays 11-4. Fresh vegetables, baking, canning/pickles, wood work, copper jewelry, beaded necklace, drawings, quilting, and more.
Please keep in mind there are only 2 pets permitted per unit.
Location
Campground Amenities
Firepit (Campsites)

Firewood (Charge)

Flush Toilets

Garbage Cans and Recycling Bins

Group Camping

Parking Lot

Pet Friendly

Picnic Shelter

Picnic Tables

Sani Station

Tap Water

Water Pump
Campsite Types
15 Amp Hookup

30 Amp Hookup

Powered RV sites

RV (<20 feet)

RV (<30 feet)

RV (<40 feet)

RV (<50 feet)

RV (<60 feet)

Tent
Leisure
Basketball or Tennis court

Beach

Beach Volleyball

Boat Launch

Boating

Cycling trails

Designated Swimming Area

Dock

Fishing

Horseshoe Pits

Kayaking and Canoeing

Outdoors games

Playground

Tetherball
To zoom, hover over chart and use the mouse scroll.
No information available at this time.
You must be logged in to write a review.
Login
Great stay
Aug 31, 2021
by
Margaret arnett
I stayed here last summer and 2 times this summer over 3 weeks in all. The park is clear and well maintained. I have never seen such clean bathrooms both indoor and outdoor at a campsite. It was quiet even on weekends when it was full. I am looking forward to staying part of my summer there next year. Keep up the great work!
Great campsite but.....
Jul 26, 2021
by
Anonymous
We loved the campground and our campsite was great but the outhouse and portapotty were totally disgusting!! Yes they cleaned the upper part of them regularly but the "lower" part was very full and I have used a lot of shitters like these and these were the worst...the smell in the outhouse was horrendous
Friendly/Family Campground
Jul 17, 2021
by
Anonymous
Spent 3 nights at Site #15… was right beside a swamp… thought we'd be eaten alive by bugs but it was lovely to see the ducks/birds/beavers. Very few bugs. Lots of dragonflies too. Very private and a great size. This site has no power. Staff was very friendly and helpful. Although the water was a little mirky lots of folks were swimming and boating. Will definately go back again.
Very large clean sites
Oct 4, 2020
by
Glenda Hounshell
Really enjoy this campground. Site are very well maintained and the whole area is very clean and nice. Stayed there twice this summer and really enjoyed both visits.
wonderful weekend
Sep 7, 2020
by
Nicole Foss
1st time to this campground. Very impressed. Very clean, sites were nice and big. The lake is beautiful. Very impressed with the staff. Very friendly and accommodating. Would definitely go back.
Camper
Sep 5, 2020
by
Sharon Wright
Extremely lovely campground .. well run .. beautiful beach and clean water. Very friendly and great customer service
Enjoyable weekend.
Aug 25, 2020
by
William McNamara
Hidden secret in scenic Alberta. Very well looked after campground and beach area.
My new favorite- it's got it all!
Aug 25, 2020
by
Bill and Kathy Rab
This campground has everything: lake with clean water to swim and paddle in, nice private sites, two beaches, clean facilities and super friendly staff.
Great little hidden gem
A great spot with plenty of small group sites for families. Nice playground for kids. Lots of field space for throwing or kicking a ball.
Very Well Kept, hidden gem, Well Worth the travel
Aug 4, 2020
by
Travis Ledrew
Had an amazing time, everyones friendly, bring your own firewood is all i can say. Will definatly be returning.
Amazing campground
Jul 31, 2020
by
Rebekah Boettger
We just stayed for our first time last week and I have booked to stay again in August we loved it that much. The campground was tidy, had friendly staff and great amenities. My kids loved the beach and the park. There are little shrimp in the water but the kids didn't mind them. There weren't to many boats so the water was pretty calm. Beach was busy but only because the water is so high so there isn't much actual beach. Showers and bathroom off the office are very clean. Showers you need loonies for. Can't wait to go back.
Great Family Campground
Jul 26, 2020
by
Kelland Pettitt
We have camped here many times over the years and love the friendly dog friendly atmosphere. This year with Covid was a bit different...after having my reservation cancelled with no explanation and not receiving the full amount back I was lucky enough to get another spot but not quite as private as I would have liked. The grounds were great, and the beach and lake were lots of fun. We will be back again. Thank you!
Great family camping!
Jul 21, 2020
by
Natasha Krec
This is our 3rd year back at Camp Lake. We love this campground. Family oriented, beautiful willow trees, and lots of space to walk or run around. Some people are bothered by the shrimp in the water but not us; I'd rather have shrimp than deal with leeches. Our only complaint was our cell service this year was limited or non existent where we camped. Didn't have a problem in the past, so not sure why that was. It forced us to really disconnect which was good.
Nice camp
Jul 13, 2020
by
Anonymous
Spent couple nights at that camp. It is a nice little camp. It was our first RV trip. Good playground, nice little lake with ok beach for the kids to play.
Great campground
Jul 10, 2020
by
Bill Farr
First time there and was very pleased with the friendly staff, well kept grounds and nice lake. It was quiet and the swimming was good. No complaints at all.
First Time @ Camp Lake
Jul 6, 2020
by
Carmen Samson
This was our first time staying at Camp Lake. Beautiful camp site, well maintained, staff are amazing, great swimming and beach area, and tons for the kids to do. Park is fantastic! We would come back!!
Great family fun!
Jun 29, 2020
by
Crystal Donnelly
This was our first time staying at Camp Lake and we loved it. The staff was great, the park is very well maintained, the sites are great, and lots to do at the playground. We will be back!
First Time
Jun 24, 2020
by
Rachelle Lawrence
This is a lovely little campground!! The staff is wonderful and the campground is very clean and quiet:) We would definitely stay here again!
Pleasantly surprised!
Jun 22, 2020
by
Cathron Meyn
This was the first time we went to Camp Lake Park and will definitely make it a regular site. Playground was well maintained and the lots were quote big with lots of trees. Quiet and super friendly staff! We will be back :)
Great place for kids
Jun 15, 2020
by
Anonymous
Nice water for swimming and floating and friendly staff. Would definitely go again.
Campground Rules and Regulations
Any foul and/or abusive language or threatening behavior towards our staff WILL NOT BE TOLERATED! Violation of this WILL result in expulsion from the campground. No refund will be offered.
Check in time will be 4:00PM, Check out time: 12:00PM. If you are late leaving without prior arrangement you will be charged for an additional night.
If you do not show up by noon the next day or make prior arrangements regarding a late check in, we reserve the right to re-book your vacant campsite.
Quiet time 11:00PM – 7:00AM.
Consumption of alcohol out in the open is prohibited. Liquor is prohibited on roads, in washrooms, at the beach, day use picnic sites, the park and other public areas. Public drunkenness and rowdiness will not be tolerated and will result in immediate eviction. No refund will be offered.
Smoking is prohibited in the washroom facility, on the beach and in the park.
Campsites are only guaranteed for camping nights that are paid for. Campground fees cannot be refunded once checked in for any reason.
Liquid and solid waste must be disposed of in receptacles provided. Pouring waste water on open ground or in your camp site is prohibited. A sewer dump station is available for your use.
No children under 18 years may rent a campsite or camp in a tent/trailer by themselves. Parents are responsible for their children and any damages they may cause.
Unsightly sites will not be tolerated. Please keep your site clean and free of garbage. Garbage cans are available throughout the campground for your convenience, PLEASE DO NOT LITTER.
Do not damage, cut, or remove trees or bushes from the campsites. Any damage done is an offence and you can be charged.
The use of fireworks, sparklers, fire crackers or caps at the campsite is prohibited.
Obey restrictions on fires. Fires may be limited or prohibited at certain times.
Build fires only in fire rings provided for that purpose. Firewood must be small enough to fit inside the fire ring. Do not put garbage in fire pits. Do not start fires with gasoline or camping fuel. Keep flammable materials away from campfires. Be sure your campfire is completely extinguished before leaving your site or going to sleep at night. YOU ARE RESPONSIBLE FOR KEEPING FIRES UNDER CONTROL.
Campers will be evicted and/or fined if any of these rules are violated. If the nature of the offense is criminal or violates any laws, police will be called and eviction will be immediate without a refund.
Campground Pet and Owner Rules
Due to the increasing number of pets in the campground, the following rules will apply:
1. Only 2 pets per unit. Pets must be kept on a leash at all times, even in your camp site.
2. You must clean up after your pet.
a) Please bag pet waste and put it in the garbage containers. Do not put un-bagged waste in the containers.
b) If campground staff must clean pet waste from your site after you check out, you will be fined.
3. Absolutely no pets are allowed in the concession, washrooms, on the beach or in the park.
4. Dogs with aggressive behavior are not allowed in the park.
5. Barking dogs will not be tolerated.
a) When you leave your campsite, put your dog in your camper or in a kennel. Do not leave dogs unattended in a campsite. Children may cut through the site and encounter a dog trying to defend its territory. Dogs tend to bark or howl for their owners when they are left alone in a strange place. If your dog is howling or barking while you are gone, it is unpleasant for your neighbors. Make sure your dog is inside, hydrated and comfortable, so everyone else can enjoy their stay too.
Cancellation Policy
There are no refunds for inclement weather, late arrivals, or early departures.
Bookings cannot be amended within 5 days (120 hrs.) of arrival.
For any changes or cancellation to this reservation, you must go to login/My bookings and select Modify/Cancel Booking
"No Shows" will not be refunded under any circumstances. If you do not show up by noon the next day or make prior arrangements regarding a late check in, we reserve the right to re-book your vacant campsite. No refund will be offered.
If you wish to cancel your reservation and receive a refund, we require a notice of a minimum of 5 business days (120 hrs., with Noon being the starting time). All cancellations will be subject to a $5 service fee. There will be no exceptions, regardless of the circumstances, so please see the examples below.
Example 1: You have a reservation for a long weekend (Friday, Saturday, and Sunday nights). On Sunday, you have a family emergency and you know that you will not be able to go camping on the weekend. If you contact the OFFICE by telephone or email before Sunday at 4:00:00 pm, you will qualify for a refund. This allows 5 complete business days before the 4:00:00 pm check in time at the campground on Friday. If you call at any time after 4:00:00 p.m. on the Sunday, you will not receive any refund. No exceptions.
Example 2: You have a reservation that starts next Tuesday. On Thursday you decide that you have to cancel your reservation. If you contact the OFFICE by telephone or email before Thursday at 4:00:00 pm, you will qualify for a refund. This allows for 5 days notice (Friday, Saturday, Sunday, Monday, and Tuesday) before the 4:00:00 pm check in on Tuesday. If you call at any time after 4:00:00 pm, you will not receive a refund. No exceptions.
Campground Guidelines
As of September 15/2021
Camp Lake Park is now closed for bookings. We are monitoring our operations to prevent the spread of COVID-19 and this page is updated as adjustments are made. Please note as of March 1st 2021 Beaver County is open for reservation for the 2021 camping season, Beaver County is opening group camping as of June 18, 2021. As of July 1, 2021 shower and washroom facilities will be open from 8:00am - 10:00pm
There is a maximum amount of 2 pets per unit permitted.
Group Camping is permitted.
Playgrounds, basketball, volleyball and tether ball open
Picnic shelters and change rooms are open.
Public showers are open
Washroom are open
Boat launch is open.
Beach's are open
Day use area open
Follow Provincial social distancing recommendations
Only 2 dogs per unit permitted.
The health and safety of our residents, visitors, staff, and contractors is our top priority. These measures are in line with Provincial recommendations to practice physical distancing.
Please read all posted signage.
Absolutely no refunds for inclement weather, late arrivals or early departures for any reason.
The management reserves the right to deny access or terminate the stay of those guests whose behavior is deemed unsuitable. No refunds will be offered.
Quiet time must be respected between 11 p.m. until 7 a.m.
Bookings are nominative and non-transferable.
We require 120 hours cancellation in order to receive refund on entire reservation, otherwise you are charged for the entire stay.
The price paid for this campsite is for one unit only (a tent is considered a unit). If additional units are placed in the same campsite, an additional fee for each additional unit (a tent is considered a unit) is due to the campground upon arrival.
Arrivals: From 4:00 p.m. until 10:00 p.m.
Departures: Before noon.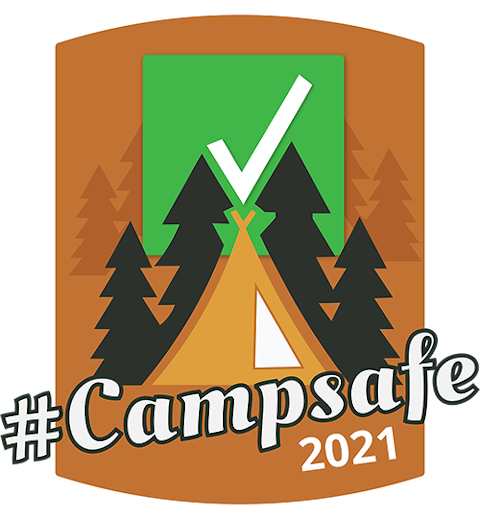 Book Campsite